CBR and ARRS Partnership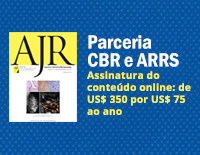 CBR and American Roentgen Ray Society (ARRS) are partners.
One of the benefits is the differentiated access to the educational content of the American entity, including the American Journal of Roentgenology (AJR).
Every month, ARRS provides a free AJR article for CBR members to learn about.
About partnership access
Only a member of the Brazilian College of Radiology and Diagnostic Imaging (CBR) who is current with their statutory obligations (annuity) can benefit from the partnership with ARRS.
At the Member Space, accessible on this portal with your social security number and password, there is a partner button with ARRS, where are the link for registration and promotional code.
If you do not see the ARRS partnership button, please contact us by email. radiologia@cbr.org.br.
Residents and trainees access all ARRS online content, including AJR, at no cost.
Other CBR members get almost 80% off ($ 350 for $ 75 a year) to access all ARRS online content, including the American Journal of Roentgenology (AJR).
Registration step by step
1) Clicking on the link will open the registration page written in English;
2) Enter the promotional code from the "Promotional Code" field;
3) Fill in the characters that appear in the security image;
4) Select the "International Members" option (if you are a resident or further training, choose "In-Training Members");
5) Continue filling in the registration fields;
6) By selecting Brazil in the country field (count
ry), the values will appear with the discount for the partnership (online content - 1st column);
7) Choose to pay $ 75 for one year of access, $ 150 for two years of access, or $ 225 for three years of access (if you are resident or upgrading, it will be $ 0);
8) Complete your registration by filling in all fields;
9) No US certification is required for registration. If you do not have any certification questioned, just choose the option "No";
10) Once you have completed your registration, your details will appear on a new conference screen. You can go back to correct / go back or continue;
11) By clicking continue, you will need to fill in your credit card details for payment (if you are resident or upgrading, there will be no payment options);
12) Once the card details are entered, the final screen will appear informing you that ARRS will take 4-6 weeks to return, validating or not your application.
The CBR is not responsible for the information registered directly by the associate.
The CBR is not responsible for any complications related to this registration, which is characterized as a direct relationship between the interested party and ARRS.
The CBR is not responsible for any changes to this itinerary made by ARRS that are not previously informed to the College.
More information:
(11) 3372-4544
radiologia@cbr.org.br