Abdominal Gastrointestinal is one of the 16 subspecialties with an extensive program of activities at the 51st Brazilian Congress of Radiology and Imaging Diagnosis (CBR22). The event will be held from September 1st to 3rd, in Florianópolis (SC), in the South Center, and registration is already open, with a discount for those who anticipate.
The CBR22 schedule was prepared by a Scientific Committee made up of 36 renowned names in Brazilian radiology. The Congress will bring new technologies and the most relevant innovations in the area with great national and international specialists.
The Abdominal Gastrointestinal subspecialty will have the following scientific activities at CBR22:
- RARE AND CHALLENGING CASES IN... WHAT I LEARNED FROM THEM: Hepatobiliopancreatic, peritoneum and digestive tract
- HOW I REPORT: LIFE AS IT IS...: Pancreatic carcinoma, Rectal carcinoma, Preoperative evaluation of hepatectomy,
- TUMOR BOARD / MULTIDISCIPLINARY SESSION: Multidisciplinary liver transplant meeting
- WHAT'S NEW IN THE LITERATURE ABOUT...: Assessment of liver function;
Classification and management of hepatic adenoma; Diagnosis and management of abdominal neuroendocrine tumor
- HOT TOPICS: Immunotherapy in oncology: how to assess response and side effects; Hepatobiliary contrasts; Nephropathy induced by iodinated contrast: legend or reality
- POINT AND COUNTERPOINT: Ultrasonographic contrast in the evaluation of focal liver injury
UPDATE COURSES
The Abdominal Gastrointestinal schedule at CBR also includes refresher courses in:
- Obstructive acute abdomen
- Vascular acute abdomen
- Inflammatory acute abdomen
- Bariatric acute abdomen
- Splenic injuries
- Hepatobiliopancreatic anatomical variants
- Liver cystic lesion
- Pancreatic cystic lesion
- Pancreatitis
renowned experts
The Abdominal Gastrointestinal program at CBR22 will have the participation of renowned specialists. They are: Daniella Braz Parente (RJ), Giuseppe D'Ippolito (SP), Antonio Eiras (RJ), Viviane Brandão Amorim (RJ), Douglas Jorge Racy (SP), Caroline Lorenzoni Almeida Ghezzi (RS), Adriano Liguori (RN ), Fabiana Barroso Thomaz (SC), Leonardo de Lucca Schiavon (SC), Fernando Ferraz de Miranda (SC), Natally Horvat (SP), Hilton Leão (SP), Luciana Costa (MG), Mayra Veloso Soares (DF), Manoel Rocha (SP) and Daniel Souza (USA).
All subspecialties of the 51st Brazilian Congress of Radiology and Diagnostic Imaging: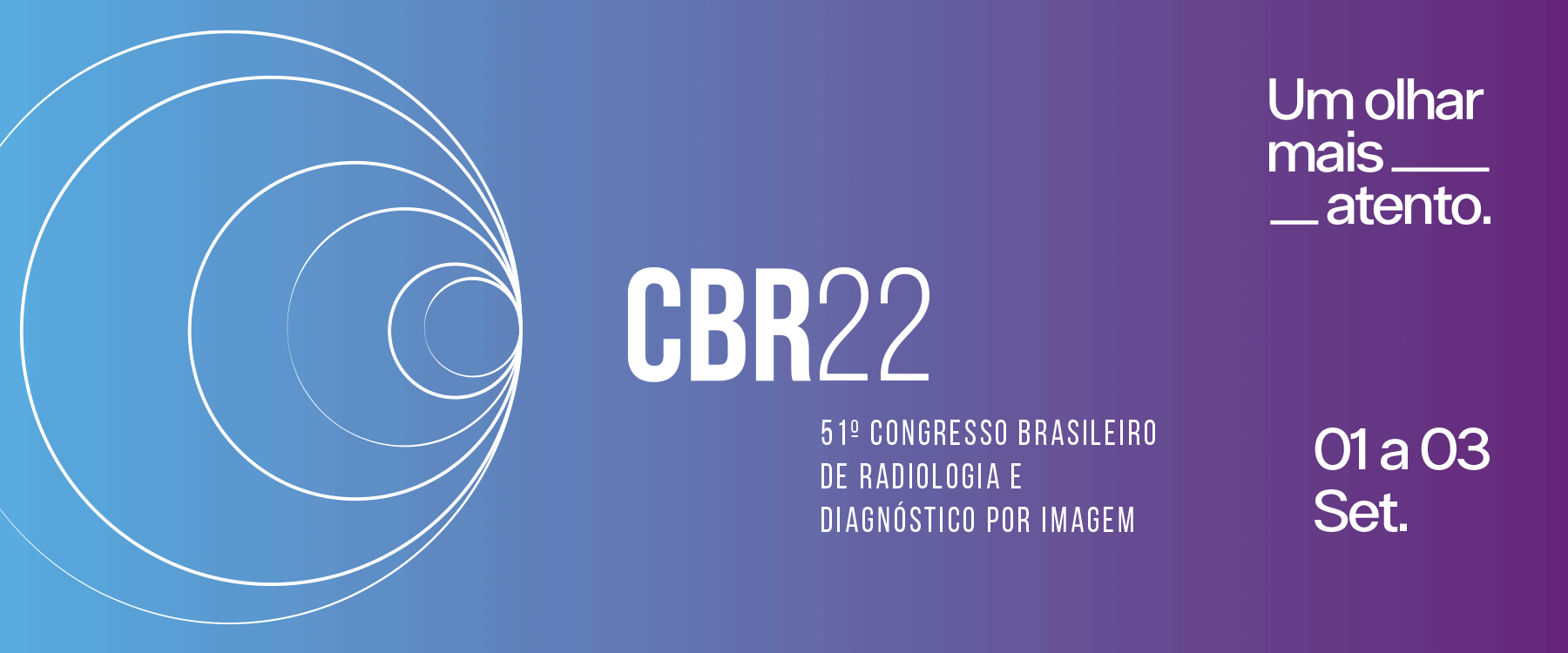 CBR22 will have a format focused on integration and interactivity between participants. In addition to Abdominal Gastrointestinal, the 51st Brazilian Congress of Radiology and Diagnostic Imaging will have scientific activities in the following specialties: Head and Neck, Cardiovascular, Gastrointestinal, Genitourinary, US Gynecology, Breast, Hybrid Methods, MSK, Neuroradiology, US Obstetrics, Oncology, Pediatrics , Female Pelvis, Thorax and General US.
sign up
Entries for CBR22 are now open and those who anticipate have a discount! So don't waste any more time.