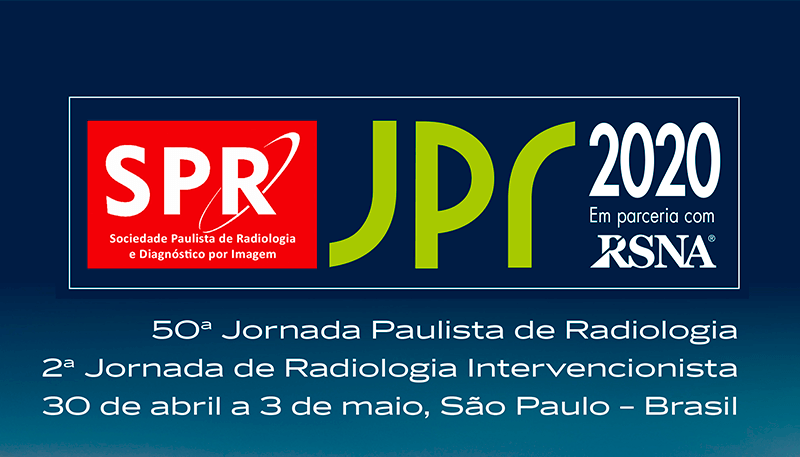 In all, 26 Lives and seven Plenary Sessions will be presented on the JPR website in two phases: from May 27 to June 24, and from July 27 to August 12. In addition to these presentations, approximately 300 new classes will be recorded for JPR 2020 Virtual and made available to the active member of SPR through the new SPR Digital Video Library, also in two phases: on June 24 and on August 12
 The Paulista Society of Radiology and Diagnostic Imaging (SPR) is carrying out the 50th Jornada Paulista de Radiologia - Special Online Edition (JPR 2020 Virtual). The event started with the first Opening Plenary and Live Session, on Wednesday, 27, on the JPR 2020 website (www.jpr2020.org.br).
On that occasion, the president of SPR, Dr. Mauro José Brandão da Costa, led the opening of the event, followed by the president of the Radiological Society of North America (RSNA), Dr. James Borgstede. Then, Dr. Renato Adam Mendonça, SPR's Institutional Relations director, moderated the Session, welcoming Dr. Carolyn C. Meltzer, who is RSNA's Science Director, RSNA Task Force Coordinator to face COVID-19 and Head of the Radiology Department at Emory University in Atlanta, Georgia. In her presentation, she will speak about the "Current State of COVID-19 and Diagnostic Imaging from the perspective of RSNA".
The JPR 2020 Virtual takes place in two editions, each edition having two phases. See the table below summarizing this program organization:
First edition
Phase 1: Lives and Plenary on the JPR website
from 05/27 to 06/24
Phase 2: Classes available at SPR's Digital Video Library
24/06
Second edition:
Phase 3: Lives and Plenaries on the JPR website
from 07/27 to 08/12
Phase 4: Classes available at SPR's Digital Video Library
12/08
More details about JPR 2020 Virtual
The contents presented at the Plenaries and Lives they will be presented once a day, from Monday to Thursday, at 6:30 pm, and on Fridays, at 5 pm. Live access to this content will be through the website www.jpr2020.org.br, free and free to all interested, being recommended only to medical professionals. These contents will be recorded for later inclusion in the JPR 2020 Virtual, a unique page within the new SPR Digital Video Library, which is even being remodeled by SPR and will be relaunched on a new platform on June 24, marking the delivery of the first part of the project's collection.
In addition to Lives and Plenary Sessions, the JPR 2020 Virtual it will have in its program more than 300 original lessons, recorded remotely, with teachers and themes from the original JPR program. Such classes will be organized in the following areas: 2nd Day of Interventional Radiology; Abdominal, Digestive and Genitourinary; Head and neck; Cardiovascular; Woman's Image; Radiology Informatics; Mama; Nuclear Medicine and Molecular Image; Skeletal muscle; Neuroradiology; Oncology; Pediatrics; Chest, and General Ultrasonography. The program will also have classes from the initiative Latin Safe, videos of practical demonstrations of the Ultrasound Villages, Intervention and Innovation and presentations of Free Themes, content that brings together the scientific production of the main Diagnostic Imaging centers in the country. The complete schedule of JPR Virtual is available on the website www.jpr2020.org.br.
It is important to highlight that North American Radiological Society (RSNA) maintains its partnership with SPR by supporting JPR 2020 Virtual. This support was decisive to enable the participation of 20 foreign teachers, previously confirmed in the on-site program, now reconfirmed in the online. In addition to these guests, 11 other foreign professors will also participate in the program by recording classes remotely, all of them representatives of international medical entities with which SPR has an educational and scientific cooperation agreement: AIRP, ACR (Colombia), SAR (Argentina) and SOCHRADI ( Chile).
It is also relevant to emphasize that the JPR 2020 Virtual counts on the support of companies Bayer and Canon, in the gold category, and Mindray, in the bronze category. This support was essential for this important project, which promotes the scientific updating of resident doctors and radiologists from all over the country, in a year in which face-to-face events will not be possible, but in which quality knowledge remains essential.