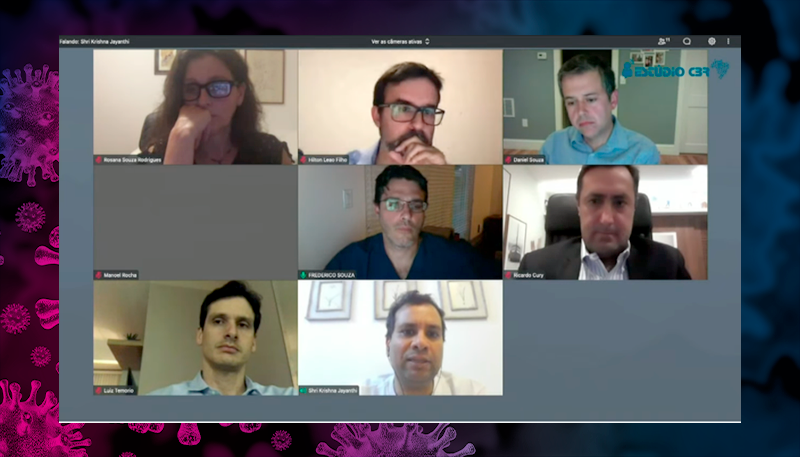 Since the beginning of the pandemic, CBR has been conducting numerous debates on topics of interest to radiologists that are related to the new Coronavirus. Most of the lives have been broadcast live on the CBR Workplace and, eventually, on the Colégio channel on YouTube, and are part of the programming grid of Estúdio CBR - Special Edition.
This Tuesday (28) there was another edition, now with the theme "Legal aspects of labor in the current pandemic: conversation with experts ". The invited lawyers were doctors Fernando Carnavan, specialist in Labor Law, in addition to doctors Alan Skorkowski and Gilberto Bergstein, from CBR's legal counsel.
Didn't get to watch? No problem. The program for Tuesday (28), as well as the previous ones, are available on the page dedicated to the subject on the CBR website, on the CBR Studio page and on social media.
And schedule yourself: this Thursday (30), at 7:30 pm, there will be another live, now with the theme "Impact of the pandemic on the training of the Resident Doctor in Radiology", with the guests: Dr. Eliane Maria Pinto Fiuza Ferreira, Dr. Giuseppe D'Ippolito, Dr. Marcel Koenigkam Santos, Dr. Mayra Veloso A. Soares , Dr. Regina Lucia Elia Gomes, Dr. Viviane Peterle. Participate!
Check the list of previous programs:
Theme: "Impact of Covid-19 on Radiology: Exchange of experiences in Brazil and the USA"
Guests: Dr. Daniel AT Souza, Dr. Frederico F. Souza, Dr. Luiz Tenorio Siqueira, Dr. Ricardo C. Cury and Dr. Rosana Souza Rodrigues
Theme: "Doubts about the epidemic: Infologist's view"
Invited: Dr. Paola Cappellano Daher
Theme: The role of Image in COVID-19
Guests: Dr. Benito Ceccato, Dr. César Araújo, Dr. Dany Jasinowodolinski, Dr. Gilberto Szarf, Dr. Gustavo Meirelles and Dr. Pedro Torres.
Theme: "CBR Studio - Special Coronavirus"
Invited: Dr. Omir Antunes
Theme: "CBR Studio - Special Coronavirus - Interview with epidemiologist
Invited: Dr. Alex Cassenote