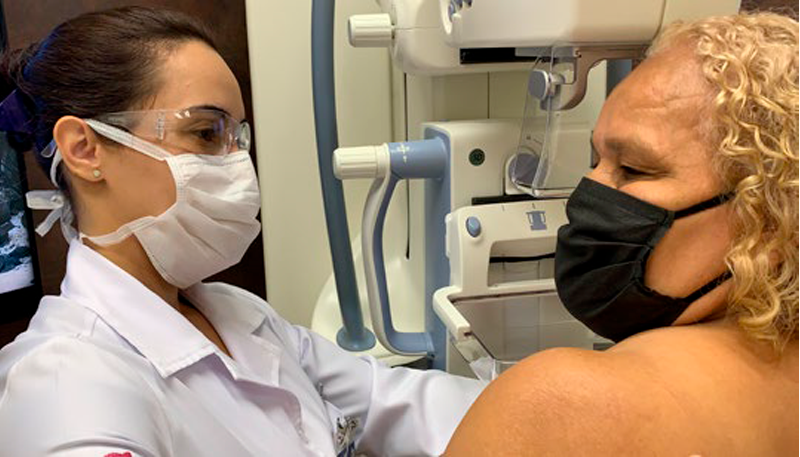 Several recommendations on the management of breast cancer screening and diagnosis during the COVID-19 pandemic have been proposed by several medical societies and institutions around the world. The objective has always been to balance the benefits of diagnosing a disease that can lead to death when not properly diagnosed and treated, with the potential risk of exposure, dissemination or even death by COVID-19.
The new and perplexing puzzle "risk versus benefit" considers the degree of suspicion of the patient having breast cancer and, in addition, the importance of the information obtained with the imaging method for the clinical decision. Thus, symptomatic women (palpable nodule, suspicious papillary flow, among others) or with suspicious findings in previous exams (BI-RADS® 4 or 5), in locoregional or systemic staging for breast cancer or in response assessment after neoadjuvant chemotherapy should continue the investigation. Percutaneous biopsies of suspicious findings and pre-surgical markings should also be continued. This decision, whenever possible, should be made in conjunction with the requesting physician, who has a more adequate knowledge of the patient's clinical risk factors in relation to COVID-19.
The big dilemma is patients who are not considered urgent: women who are performing control of likely benign findings (BI-RADS® 3) and, mainly, asymptomatic women who are undergoing screening, with habitual risk or even those at high risk for breast cancer. The question is: do we bring these patients to the clinic and generate a potential risk of exposure and contamination to her, the technicians and technologists, the support team and the radiologists for an exam that is unlikely to result in breast cancer? This answer is difficult and complex. Most guidelines still recommend postponing these exams. But the problem is that the breast radiologist has always worked to meet the immediate needs of patients, alleviate their fears and streamline their care. How disconcerting it is now that we are faced with a new view of the risk versus benefit equation.
But how long can we safely postpone these exams? Perhaps that answer does not exist. Because there is no security when we postpone the detection of a cancer that can be cured at an early stage. For this reason, planning to return to activities for elective exams must take into account the epidemiological status of each region. In places where the number of COVID cases is still high or on the rise, what we can do is start planning a return to activities to reverse this situation as quickly as possible: make a list of all patients canceled during the pandemic, to to be the first to be scheduled; among patients who have been postponed, make a list of care priorities: initially women in high-risk screening, followed by patients in control of BI-RADS findings® 3 and after screening women with usual risk of breast cancer. Other measures, such as planning additional work shifts at intermediate or night times, as well as on weekends, can help. But it is clear that in a country where access to tests has always been difficult, even in pre-pandemic times, it will certainly not be an easy task to reverse this situation.
On the other hand, in regions where the pandemic peak has passed and the new cases are stabilized, in which there is a relaxation of the measures of social isolation, the performance of elective exams can already be considered. But for that it is necessary that all the safety recommendations described in the "General COVID-19 infection prevention recommendations for clinics and hospital diagnostic imaging services", published by the Brazilian College of Radiology (available at: www.cbr.org.br), as well as in the Technical Note "Guidelines for the prevention of transmission of COVID-19 within health services (GVIMS / GGTES / ANVISA No. 07/2020), published by ANVISA, are complied with to ensure safety for patients and health professionals. It is important to note that the final decision to make an elective exam should occur whenever the doctor and the patient conclude that the equation "risk versus benefit" is appropriate, but trying not to extrapolate a maximum period of time between exams of 18 months.
Finally, Brazil is a continental country and the measures and strategies adopted in a service or hospital may depend on the individual organization, the resources of the institutions and the epidemiological situation of each region, and may not be the same for other locations. But, as in other countries, we will return to "normality". And let this be as soon as possible.
Mammography Commission, CBR