The 51st Brazilian Congress of Radiology and Imaging Diagnosis (CBR22) is also a space for leisure and integration among fellow radiologists: sign up for the 1st Tournament of beach tennis from the CBR! The competition will take place on September 2nd, during the CBR22, at the Gym Club, in Florianópolis (SC).
It will be a mixed tournament (men's, women's or mixed doubles), open only to those enrolled in the Congress, of all categories, in random draw groups and with elimination scheme in knockout. There will be prizes and trophies for the top three finishers.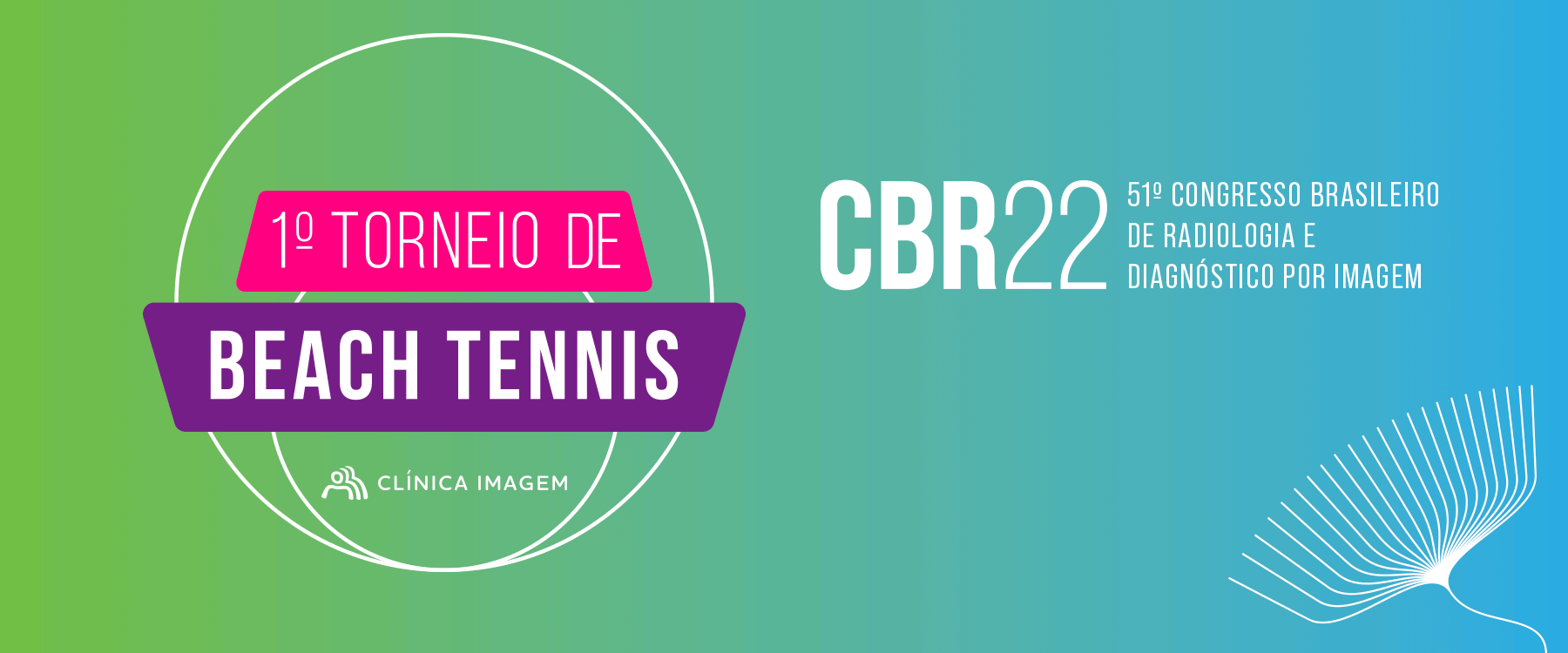 Participants can register individually (R$ 25.00 for registration) or already formed pairs (R$ 50.00 for registration). In the case of individual registration, the pairing for formation of pairs will be done by drawing lots as long as there is an adequate number of individual registrants.
The organization of the event will provide the team and materials necessary for the tournament: judge, balls and rackets, so that the disputes take place according to the definitions of the Brazilian Tennis Confederation (CBT). There will be giveaways for all participants and prizes and trophies for the top finishers.
See you in Florida! Let's enjoy together the valuable attractions of CBR22 and have fun in the 1st Tournament of beach tennis of the CBR and other social activities promoted by the organization of the Congress.
Sponsorship

The CBR22
The 51st Brazilian Congress of Radiology and Diagnostic Imaging (CBR22) is unmissable! It will bring together the very latest in radiology, with scientific activities from 16 subspecialties and other important areas of interest. hot topics, refresher courses, Point and Counterpoint, novelties in literature, tumor board and rare cases are in the extensive programming.
Also, the traditional Marathon with an innovative format, Arenas (Innovation, Humanities, Radioprotection, Ultrasound), exhibition of scientific works and much, much more could not be missing. All planned by a Scientific Commission formed by 36 renowned specialists from all over the country, with lectures and presentations by big names in the specialty in Brazil and in the world.
Don't be left out!
Master Sponsor

Bronze Sponsors