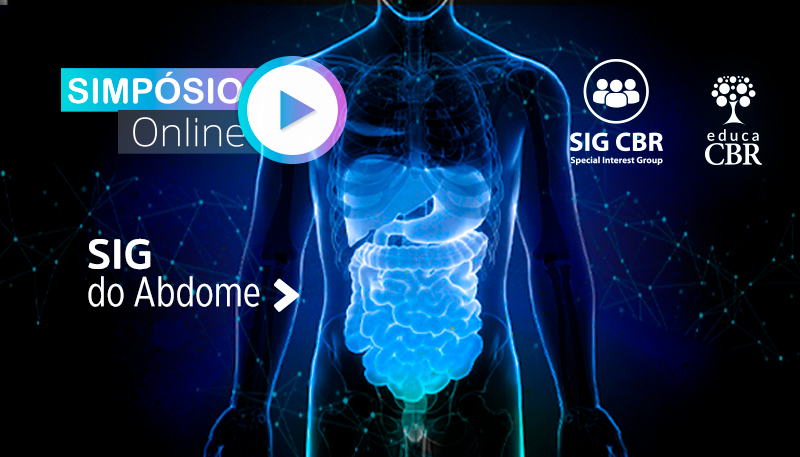 CBR launched yet another novelty during the month of May, the SIG CBR Symposium, and expanded discussions in the abdomen area, in addition to expanding its online content offering in the new Virtual Learning Environment.
The case meetings of SIG do Abdome that are always held on the first Wednesday of each month at 12:00 (Brasília time) continue normally and open to all interested parties, whether associated or not with the College.
But for those who are interested in the theme, they now have one more initiative from the institution. The SIG CBR Symposium offers unprecedented classes taught by teachers from all over Brazil on various topics within the "Abdome" area, which aim to further enrich the program of professional update content already offered by the SIG CBR that you know.
The first class took place on May 13 with the theme "Benign changes in the ovary with an emphasis on differential diagnosis and ORADS" with Professor Dr. Luis Ronan MF de Souza and Dr. Alice Cristina Coelho Brandão as moderator.
"Revisiting hepatic vascular lesions" was the theme of the second class of the Symposium, held on May 20, with Professor Dr. Giuseppe D 'Ippolito and Dr. Manoel de Souza Rocha, former president of CBR, as moderator.
The last class of the month, which took place on May 27, had the theme "Entero TC and entero RM in the evaluation of Crohn's Disease" and was taught by Dr. Daniel Lahan Martins and moderated by Dr. Thiago José Penachim, also with large public, as well as the previous ones.
Other classes are already scheduled and will take place in the coming Wednesdays. Stay tuned to our social networks!
How to participate?
 Member in default: All CBR defaulting members can participate live or access the version edited later in the Virtual Learning Environment, free of charge.
 Delinquent or non-associated member
They will be able to purchase, later, the edited version to watch in the Virtual Learning Environment. There is no possibility to purchase participation live.
The certificate will be awarded annually to those who have 75% attendance at the Symposium classes.
Recalling that the CBR Virtual Learning Environment is open, temporarily, to all interested parties. All available content is being offered for free until June 30th. Enjoy!