The patient at the center of care is the theme of one of the 11 panels of the 1st Symposium on Quality and Management of Clinics of the Brazilian College of Radiology and Image Diagnosis (CBR), which will be held from September 1st to 3rd, in Florianópolis (SC) ).
The event will bring together presentations of methodologies, discussions and case studies of success from renowned institutions that contribute to the knowledge and application of best quality and management practices in radiology and imaging services. Registration is now open, with a discount for those who anticipate.
the theme panel The patient at the center of care will be held on September 1st, Thursday, with the following subjects and activities:
- Shared decision: pre and post exam communication, with a lecture by Linei Urban, radiologist, responsible for the Breast Sector at Clínica DAPI, in Curitiba (PR). Coordinator of the National Mammography Commission of the Brazilian College of Radiology and Imaging Diagnosis (CBR).
- disclosure - communication of critical findings, with a lecture by Jovita Lane Soares Santos Zanini, professor at the Department of Anatomy and Imaging at the Faculty of Medicine of UFMG, assistant physician and preceptor of the Diagnostic Imaging Unit at Hospital das Clínicas at UFMG, working in the area of Pediatrics, manager of Teaching at the Hospital das Clínicas at UFMG, Master in Child and Adolescent Health at UFMG and doctoral candidate in the same program.
- Presentation real patient case, with case presentation by Aline Ducatti, consultant in executive health management, health project management and quality certifications, Padi auditor since 2015
- Round table with Adriano Tachibana, radiologist at Hospital Albert Einstein, member of the Commission for Accreditation in Diagnostic Imaging (Cadi) at CBR; and Ruy Moraes M. Guimarães, coordinator of the Diagnostic Imaging Accreditation Program (PADI) and clinical director of Hospital Centro Médico de Campinas
Other panels of the 1st CBR Clinic Quality and Management Symposium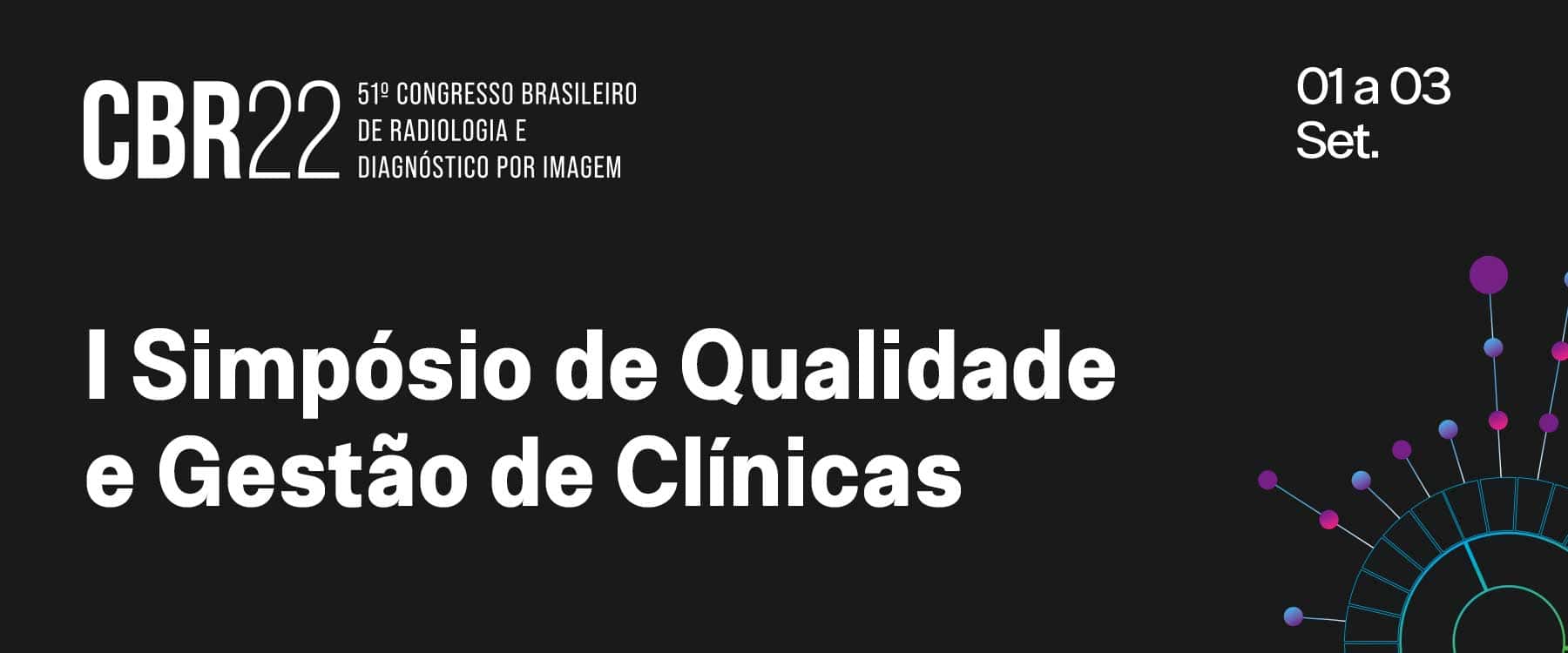 The other panels of the I Symposium on Quality and Management of CBR Clinics will have themes such as: padi, LGPD, Security in Teleradiology, Quality on the Agenda, LGPD as a tool for information security and trends in the health market. The event will also have presentations of scientific works in the area of Quality and Management.
Click the button below to see the full schedule and register.