Abdominal Genitourinary is one of the areas with extensive programming at the 51st Brazilian Congress of Radiology and Diagnostic Imaging (CBR22), which takes place from September 1st to 3rd, in Florianópolis (SC), in the Center-South region. CBR22 will bring the most modern in the area, with activities of 16 subspecialties and other topics of interest in radiology. Registration is now open, with a discount for those who anticipate. Don't be left out. 
In Genitourinary Abdominal, the program includes refresher courses and sections What's New in Literature..., hot topics, point and counterpoint, Rare and challenging cases, How do I report It is Tumor Board / Multidisciplinary Session.
The refresher courses in Genitourinary Abdominal offered at CBR22 are:
- MRI of the Penis - Technique and Indications
- MRI of the Testicular Pouch - Technique and Indications
- Imaging in hereditary neoplasms with urological manifestations
- Image Investigation of Secondary Hypertension
- Image in the Investigation of Hematuria
- VI-RADS - Practical Guide
- PI-RADS v2.1 - Practical Guide
- Bosniak 2019 - Practical Guide
in the section What's new in the literature on... "MRI in the prediction of Post-Prostatectomy Urinary Continence" and "Current Role of Biparametric MRI of the Prostate" will be addressed.
In hot topics, highlights for "Prostatic Neoplasia - PRECISE in Active Surveillance - How to Apply", "Prostatic Neoplasia - Staging by MRI - How to Evaluate", "Prostatic Neoplasia - Staging by PET-PSMA - When and Why" and "Prostatic Neoplasia - PI- RR Post-Treatment - How to Apply".
In point and counterpoint of Genitourinary Abdominal at CBR22 the discussion is about whether or not to include in the report "Histological Prediction of Solid Renal Nodules".
Rare and Challenging Cases in... What I learned from them will bring examples related to kidneys, prostate and adrenals.
How I report: life as it is... addresses "Kidney Neoplasia - Characterization", "Kidney Neoplasia - Staging", "Kidney Neoplasia - Post-treatment Assessment".
Tumor Board / Multidisciplinary Session is another highlight of the program, with approaches to the prostate and bladder.
renowned experts
The Genitourinary Abdominal program will have the participation of renowned specialists in the area in Brazil and worldwide. They are: Mauricio Zapparoli (PR), Ronaldo Hueb Baroni (SP), Bruna Schmitz Serpa (SC), Marcelo Gusmão (BA), Fernando Morbeck Almeida Coelho (SP), Cassia Tamura Sttefano Guimaraes (SP), Caroline Lorenzoni Almeida Ghezzi ( RS), Valdair Francisco Muglia (SP), Leonardo Kayat Bittencourt (USA), Antonio Westphalen (USA), Matthew S. Davenport (USA), Fiona Fennessy (USA), Francesco Giganti (ING), Valeria Panebianco (ITA), Ivan Pedrosa (USA), Nicola Schieda (CAN), Alice Schuch (RS), Murilo De Almeida Luz (SP), Elisangela Carvalho (BA), Oren Smaletz (SP), Gustavo Franco Carvalhal (RS), Karine Martins Da Trindade (CE) ) and Marilia Germanos (SP).
Other CBR22 attractions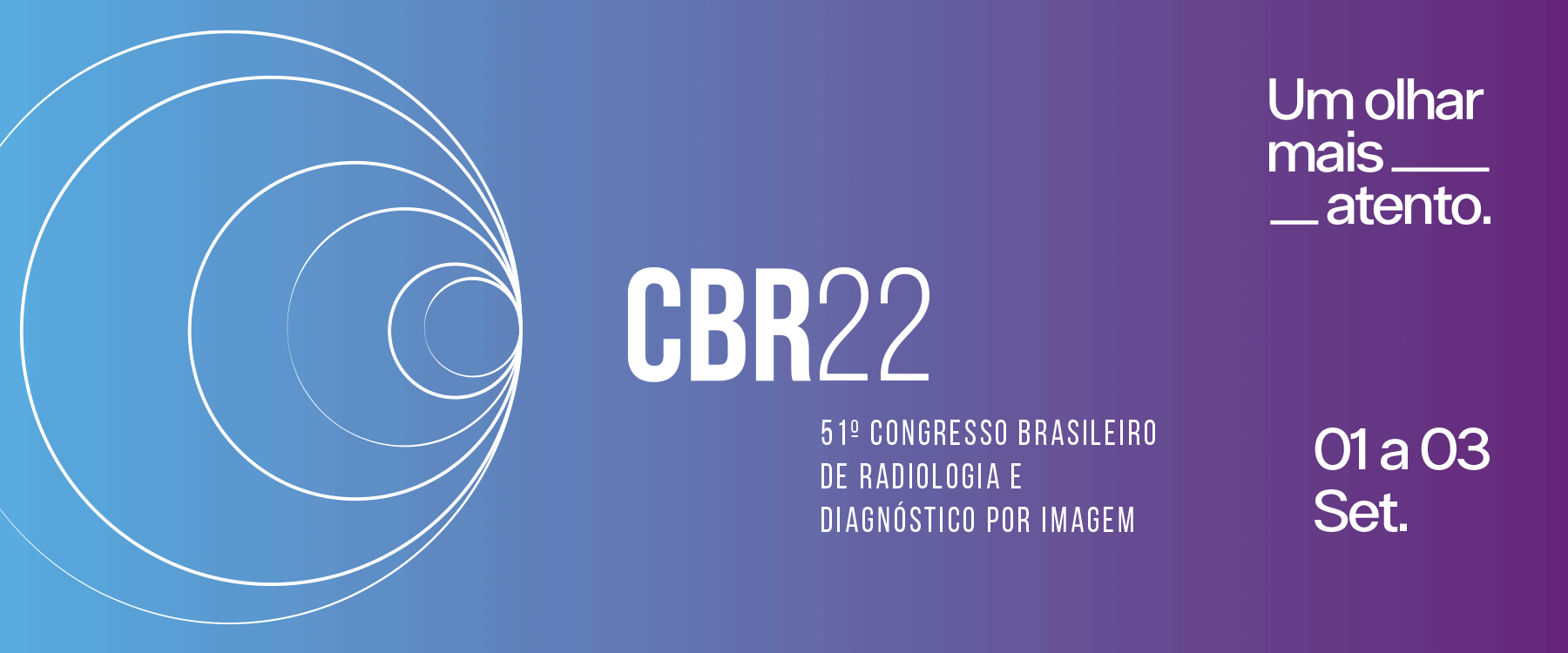 In addition to Genitourinary Abdominal, the Congress will have scientific activities in over 15 subspecialties and other areas of interest in radiology. The Congress will also have Arenas, Marathon, Presentation of Scientific Papers and a series of other attractions. All in an environment focused on promoting broad integration among participants.
Check out the full schedule and register using the button below:
Read too: CBR 22 has extensive Abdominal Gastrointestinal programming