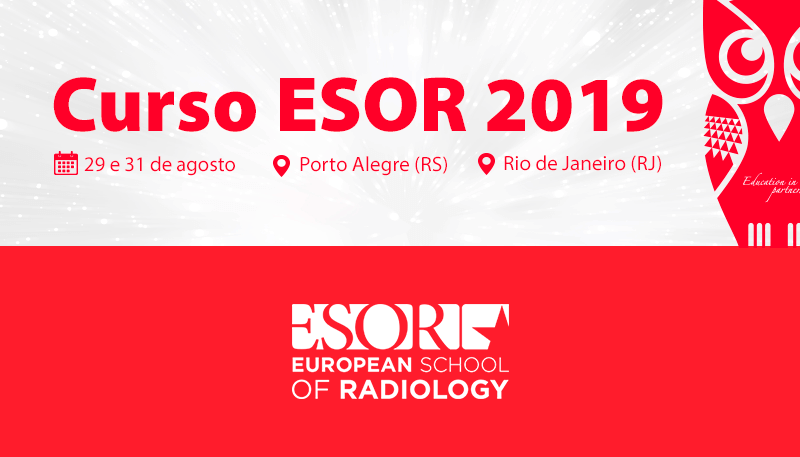 With the theme "Neuroradiology", this year's edition of ESOR - ASKLEPIOS International Course, an important and traditional course among radiologists, will take place in the cities of Porto Alegre on August 29 and Rio de Janeiro on August 31.
The course is the result of the important partnership between CBR and European School of Radiology (ESOR), educational institution linked to European Society of Radiology (ESR), and occurs for several years in Brazil, in different cities.
The ASKLEPIOS project was created to serve professional development, meeting recognized needs in the context of continuing radiological education. Its concept is versatile and broad even to cover evolving topics in European and non-European destinations. Its programs include multi-disciplinary, organ-oriented, multi-modal and multidisciplinary advanced courses for senior residents, general radiologists and private radiology clinicians or allied specialists.
This educational program is conducted by renowned European and local speakers in an effort to open new opportunities for knowledge exchange and to improve scientific collaboration.
One of the great differentiators of ESOR courses is that it offers a combination of classes and case discussions where participants, divided into smaller groups, have the opportunity to see cases with teachers, making it much easier to ask questions and exchange of experiences.
According to Dr. Leandro Lucato, who will teach the course, it is a condensed but quite varied program. "There is a focus on Vascular Neuroradiology, a theme that has changed a lot in recent years. The treatment of patients with acute stroke has changed a lot and the image has a fundamental role in the screening of these patients, so this is a subject that has been fundamental for the neuroradiologist to be updated. In addition, we will have updates in other fields, such as Oncology, infectious diseases, among others, "he explains.
Dr. Lucato will lecture on infectious diseases to show imaging patterns that help the radiologist diagnose either a specific disease or narrow the differential diagnosis for a group of diseases. "My idea is to focus on imaging aspects that increase the specificity of imaging to go a little further and help the clinician help say it's an infection or a specific disease," he adds.
Dr. Lívia Morais, who will also teach, points out that the model adopted by the course, with lectures and practical and focused discussions, allows wide exchange of knowledge between speakers and participants, which makes it a very dynamic and even more event. rich. "In addition, the opportunity to exchange experiences with renowned European speakers is, in my view, extremely positive," he adds.
Dr. Lívia's lesson planning addresses recent issues regarding the imaging management of patients with acute ischemic stroke, according to the trials published in this regard, focusing on the particularities of each method, particularly MRI. "My goal is to bring a critical and practical view to participants, directed to the information that needs to be provided so that patients can be conducted in the best way possible," he concludes.
It is important to remember that the classes will be taught in English and there will be no simultaneous translation service.
Meet the international teachers:
ARND DOERFLER
Prof. Arnd Doerfler is Full Professor of Neuroradiology at University Erlangen-Nuremberg and Head of the Department of Diagnostic & Therapeutic Neuroradiology at Erlangen University Hospital, Germany, since 2004. His research has focused on multimodal imaging in cerebrovascular disease, brain tumors, epilepsy, neurodegenerative and neuroimmunological diseases. Its scientific and clinical focus is high-field MRI, Interventional Neuroradiology and endovascular therapy for stroke, aneurysms and vascular malformations, respectively. In 2005, he completed a Master's degree in Business Administration and Health Care Management. Professor Doerfler is, since 2005, Director from the German Society of Neuroradiology (DGNR) and was its president from 2016 to 2018.

PEDRO VILELA

Pedro Vilela MD, MSc is a Neuroradiologist. Working in Lisbon, Portugal, in both fields: diagnostic and interventional neuroradiology, he is Head of Neuroradiology at Beatriz Ângelo Hospital and senior consultant at Hospital Garcia de Orta and Hospital da Luz. from Coimbra. He is the current secretary of the ESNR Institutional Council and one of the editors of the Neuroradiology section of European Journal of Radiology.

SOTIRIES BISDES

Neuroradiologist and head of the MRI department of the Department of Neuroradiology at the National Hospital for Neurology and Neurosurgery in London; Pediatric Neuroradiology Consultant at Great Ormond Street Hospital for Children; Associate Professor of Neuroradiology at the Institute of Neurology University College London and Professor of Radiology at Eberhard Karls University in Tübingen, Germany. He has a postgraduate degree in Advanced Oncology and is a Fellow of the European Society of Head and Neck Radiology. He has authored over 140 scientific articles and eight book chapters. He is currently the leading researcher in imaging in neuro-oncology at the National Hospital for Neurology and Neurosurgery. Dr. Bisdas is a member of the Editorial Board of several leading image magazines such as Radiology and Neuroradiology; He is a reviewer of leading journals at Neuroimagem, a member of the Executive Committee of the European Society of Head and Neck Radiology and the European Society of Medical Imaging and Informatics. He is also a member of the Scientific Committee of the European Society of Neuroradiology. His clinical and research interests and area of expertise include neuro-oncology, dementia, metabolic disorders, advanced and translational neuroimaging, ultra-high field MRI and PET-MRI.

CHAMPFLEUR NICOLAS MENJOT

Nicolas Menjot from Champfleur, MD, Ph.D., works as an assistant professor in the Department of Neuroradiology at the Montpellier University Hospital Center in France. His research activity is particularly focused on brain connectivity and its plasticity in the context of low-grade brain gliomas, multiple sclerosis, dementia and in normal individuals. This research work is done within the Institut d'Imagerie Fonctionnelle Humaine (I2FH) and within the Laboratoire de Physique (University of Montpellier).

Meet the national teachers:

Dr. Lívia Morais - Neuroradiologist and coordinator of the MRI sector of the Institute of Radiology, Hospital das Clínicas, USP (InRad-FMUSP).

Dr. Leandro Lucato - Lecturer, Department of Radiology and Oncology, School of Medicine, University of São Paulo; Director of the Clinical Staff of the Radiology Institute of the University of São Paulo Hospital das Clínicas (InRad / HC-FMUSP); Coordinator of Neuroradiology, Diagnostic Center Brazil (CDB).

Know the event locations:

Rio de Janeiro - RJ)
Hotel Pestana
Atlantic Avenue, 2964 - Copacabana

Porto Alegre (RS)
Hotel Intercity Porto Alegre
Av. Borges de Medeiros, 2145 - Praia de Belas

How to apply?

Entries are made online through the website cursoesor.com.br, in the "Registration" field. CBR and SBNR members and residents have priority in filling vacancies and special discounts.

Tags: ESOR, neuro, neuroradiology, neuroradiology, Porto Alegre, radiology, Rio de Janeiro