Contrast media will be the subject of one of several lectures at the 51st Brazilian Congress of Radiology and Diagnostic Imaging (CBR22). One of the main events in radiology, CBR22 will be held from September 1st to 3rd, in Florianópolis (SC), with scientific activities in 16 subspecialties and other topics of interest.
The lecture on Contrast Means at CBR22 will be held on September 3, with Guilherme Hohgraefe Neto, specialist in Radiology and Imaging Diagnosis by CBR and AMB, member of CBR and the Commission for Accreditation in Diagnostic Imaging (Cadi ) from school.
The following topics will be covered:
- How to design a triage questionnaire for acute adverse events that protects the patient and optimizes the workflow?
- Corticosteroids and antihistamines in the prevention of adverse events. Is there still room for this conduct?
- The end of fasting before contrast-enhanced radiological examinations
- Strategies for the care, registration and follow-up of patients who had adverse events
- What is the role of the radiologist in the prevention of acute kidney injury associated with iodinated contrast?
- Is it possible to use gadolinium-based contrast in patients with renal failure?
- Use of radiological contrast media in pregnant and lactating patients
- Use of radiological contrast media in pediatric patients
Contrast scarce moment
Questions related to contrast gained even more relevance in view of the current scenario of scarcity of the input all over the world. On July 13, the Ministry of Health issued a note with guidelines for rationalizing the use of iodinated contrast. The subject has also been on the agenda of webinar sponsored by CBR in june and from interview given by the scientific director of the College, Luciana Costa, to Record TV.
CBR22 schedule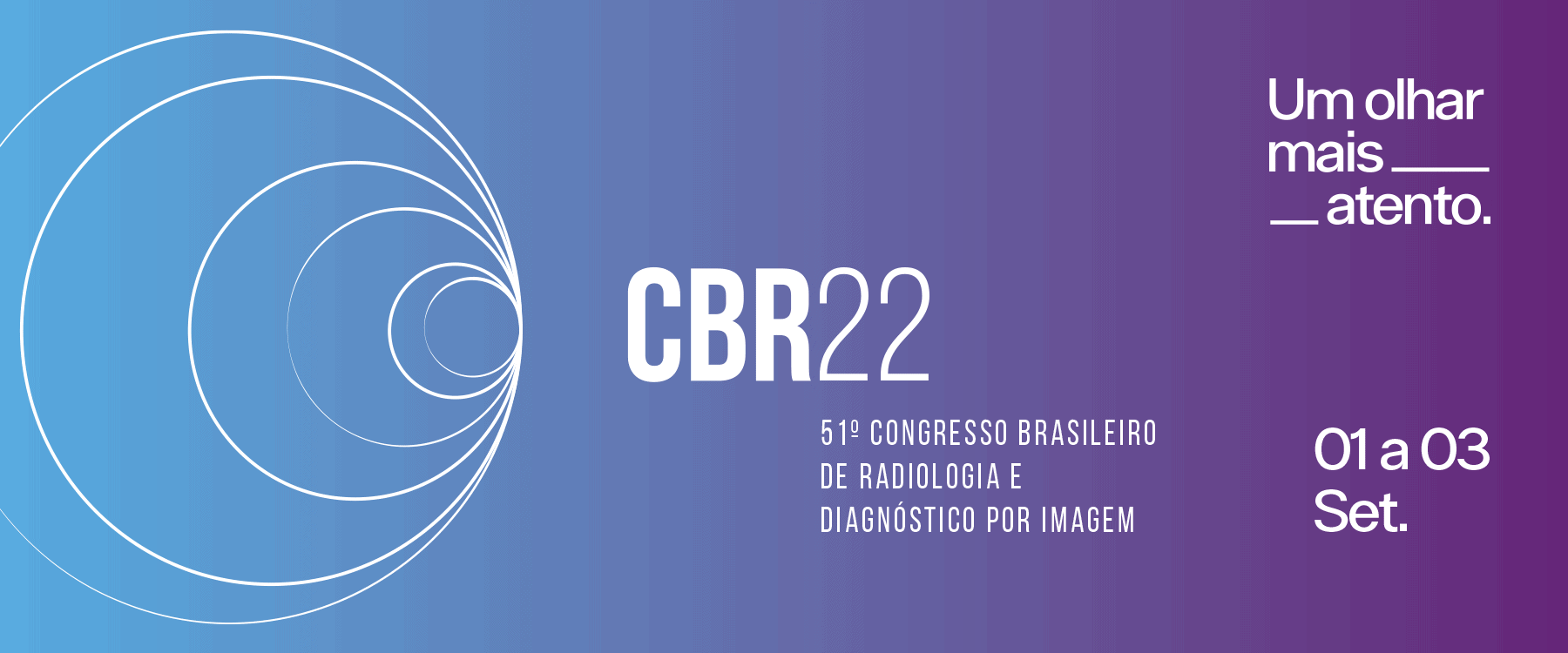 The program of the 51st Brazilian Congress of Radiology and Diagnostic Imaging will include scientific activities such as: hot topics, Point and Counterpoint, How do I report?, Rare and challenging cases, tumor board, What's new in the literature about..., Arenas, Marathon, Exhibition of Scientific Papers and much more. All in an environment focused on promoting broad interaction among participants.
The following subspecialties will be addressed at CBR22: Abdominal Gastrointestinal, Abdominal Genitourinary, Head and Neck, Cardiovascular, Breast, Hybrid Methods, Musculoskeletal, Neuroradiology, MSK Ultrasound, General Ultrasound, US Gynecology, Chest, Female Pelvis, Pediatrics, Oncology and US Obstetrics, in addition to several other topics of interest to the radiologist.